Poetry
Like the New Moon I Will Live My Life
This book is an ambitious collecting of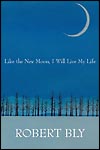 over 190 poems not included in Robert Bly's recent selected poems, Stealing Sugar from the Castle. Ranging back to some of his earliest publications in the early 1960s, Like the New Moon gathers work from many of Bly's smaller, more obscure publications, including a number of poems that have never before appeared in any book. With a special focus on the more Chinese-influenced strain of Bly's work with its room for movement, spontaneity and openness, this volume is a feast for Bly fans and collectors alike. Like the New Moon is knowledgeably edited by White Pine publisher Dennis Maloney, with an introduction by Thomas R. Smith who identifies these poems collectively as "Bly's less-traveled road," holding many delights for the poetry reader willing to venture off the beaten path.


The Lion's Tail and Eyes: Poems Written Out of Laziness and Silence
In 1962, when Robert Bly was about to publish his first full-length book of poems,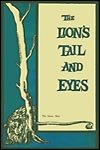 he also released from his Sixties Press this small sampling of his poems along with others by friends and colleagues William Duffy and James Wright. Duffy was the co-editor of Bly's influential Fifties and Sixties magazines, and Wright a frequent collaborators in Bly's translations projects. Both friends were intensely interested in the image-based poetry Bly was writing and promoting in the magazine, for which The Lion's Tail and Eyes is also a showcase. Long a rare and expensive collector's item, this handsome facsimile edition by White Pine Press brings back into affordable availability an essential poetic document of the 1960s. John Logan called the original edition "an unusual, exciting volume which serves ideally to lead readers into the extraordinary creative world of three Minnesota poets…who together are bringing to American poetry a powerful new direction away from academicism."

Stealing Sugar from the Castle: Selected and New Poems 1950-2013
Selected from throughout Robert Bly's monumental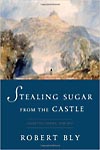 body of work from 1950 through the present, and including eight stunning new poems, Stealing Sugar from the Castle represents the culmination of an astonishing career in American letter. Ranging from early poems of the 1950s published in his ground-breaking first book, Silence in the Snowy Fields, to a generous selection of the American ghazal form Bly has pioneered over the past two decades, this book forms the definitive record of a dazzlingly inventive and original journey through 20th century poetry. As the Huffington Post comments, "Bly is dedicated to reintegrating poetry with life - daily life, the life of the body, spiritual and political life." The third and biggest of Bly's volumes of selected poems over a 30-year period, Stealing Sugar from the Castle will stand as the definitive summary of Bly's joyful and spirited labor in service of poetry and the soul.

Talking into the Ear of a Donkey
Reflecting Robert Bly's lifelong fascination with poetic
form,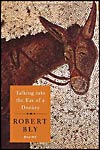 the poems in Talking into the Ear of a Donkey range from free verse to Bly's invented form, the ramage, to his American version of the Mideastern ghazal. In the title poem, Bly addresses a "donkey," which may be poetry itself, which has carried him over a writing life of more than six decades: "I have been talking into the ear of a donkey. / I have so much to say! And the donkey can't wait / To feel my breath stirring the immense oats / Of his ears." These poems, emotionally varied, wise and far-ranging in their intellectual and cultural reference, stand at the very height of Bly's achievement. They show the poet in his ninth decade, still full of amazement and gratitude. He says in "What the Old Poets Failed to Say": "The sunlight on wheat-heads in August holds me firmly, / For I am in love with the wheat soon to be cut. / Let's thank whoever it was who kept sorrow alive."



My Sentence Was a Thousand Years of Joy
Readers of The Night Abraham Called to the Stars will instantly recognize the literary style and landscape of My Sentence Was a Thousand Years of Joy; as in the earlier volume, Robert Bly serves up an abundant feast of 48 of his "American" ghazals. But these poems drive even deeper into the ecstatic than the earlier poems did. In fact, many are inspired by ecstatic music from other cultures, especially the Iranian and the Indian. In a poem dedicated to the sitar player David Whetstone, Bly says: "Every sitar note strikes a bargain with the one / Who arranges things. One note says, 'A year in heaven.'" Each poem is made up of six three-line stanzas, many of which can stand as tiny, provocative poems in themselves. But taken all together they make an unforgettable, image-saturated meditation on the most profound spiritual realities of life, death, love, and grief.

The Urge to Travel Long Distances
In the early 60s, Robert Bly's first poetry collection, Silence in the Snowy Fields, came as a fresh breeze to clear away the stale odor that hung over much American poetry. Influenced by Chinese and Spanish poetry, the Snowy Fields poems spoke a language of images rather than exhausted abstractions. Those who love Bly's early poems will be delighted by The Urge to Travel Long Distances, which collects 20 more poems from that time, written on the farm in western Minnesota. All have been largely unavailable, and some never published before the appearance of this beautifully designed collection. Here is the title poem: "Tonight, after riding, and translating a few poems from the Danish, / I sawed off wild shoots from the box elder trees. / In the spring night we are not content to be home. / We have urges to travel long distances in the misty dusk."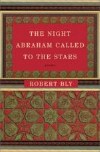 The Night Abraham Called To The Stars
Densely allusive, imaginatively bold, and sometimes darkly funny, each of the 48 poems in The Night Abraham Called to the Stars shares the same form of six three-line stanzas, Bly's adaptation of the Eastern ghazal form. Bly's approach is unique in its muscular leaping, a power Bly has developed from the beginning of his literary career in the 1950s. One can feel Bly "doubling the madness," ratcheting the already considerable intensity of his art up a few more notches, to electrify and challenge the reader in his most powerful collection to date.



The Insanity of Empire: A Book of Poems Against the Iraq War.
This book against the Iraq War is illuminated by Bly's insights into the mass psychology of the war and its spiritual roots in the Islamic concept of the nafs, or "greedy soul." "We can surmise," says Bly, "that the greedy longing for 95 TV channels is related to the greedy longing for a new war." To some of his earlier poems written during the Vietnam War, Bly has added five new poems in the ghazal form, a form that contributed to the power of his book The Night Abraham Called to the Stars, published by HarperCollins in 2001. These poems include the now-famous poem "Call and Answer," which was one of the first poems written against the war, published in The Nation in August of 2002. Bly's new poems reach for that larger voice to which he has always been committed. Available for purchase online via PayPal at Ally Press.

Eating the Honey of Words: New and Selected Poems
This landmark 1999 selection features 200 poems chosen by Bly as the vital core of his work. Many previously unpublished or revised poems illuminate more familiar poems in this revelatory retrospective of one of America's most essential poets. If you own only a single Bly collection, this should be the one.
In this 1997 collection, Bly pays homage to his mentor William Stafford, who wrote a poem every morning. Playful and improvisatory, this book presents a side of Bly not seen before in his poetry . Probably the most concentrated glimpse of Bly's agile, restless creativity captured in a single volume.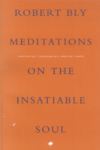 Meditations on the Insatiable Soul
One of the major themes of this collection ( at the time of publication his first all-new gathering in nine years) is the old age and death of his father. These poems, both tender and stark, lay out the wounding in both sides of the father-son relationship. Also includes his long poem "Anger Against Children" and a visionary sequence of "Not Caring" poems.
What Have I Ever Lost by Dying?: Collected Prose Poems
The subtitle is a slight misnomer, because this volume doesn't sample Bly's first prose poem collection, the exotic This Body Is Made of Camphor and Gopherwood. But almost all of the other notable prose poems are her, in a survey that practically redefines its genre.

Angels of Pompeii (with Stephen Brigidi)
This collaboration between Bly and photographer Stephen Brigidi centers around angels or other divine beings painted in the ancient ruins of Pompeii. Bly's poems (many previously unavailable) are surprisingly harmonious with Bridigi's photos of gorgeously peeling walls. Heavier on photos than on poems, of which there are eight.
Published in 1986, Bly's first selected poems differs significantly from his more recent selection, Eating the Honey of Words. Bly radically revises poems from Sleepers Joining Hands especially. Each section is prefaced with brief but illuminating essays tracing the evolution of Bly's poetry from book to book. Students and lovers of Bly's poetry will want to own both volumes. [more info: Amazon Books Online]
In his love poems, published in 1985, Bly strikes deeper into the intricacies of man-woman relationships than most of his contemporaries. Following the Chinese masters, he is especially inventive in his delicate use of natural imagery to suggest the pleasures of lovemaking. This book bursts with heart. [more info: Amazon Books Online]



The Man in the Black Coat Turns
This 1981 collection, with its mythological resonance and intricate stanza forms, was one of Bly's most revolutionary in its time. "Black Coat" is the point where Bly's poetry meets his fascination with the male psyche, laying the poetry foundation for his subsequent work with men and his prose work, Iron John.


This Tree Will Be Here for a Thousand Years
In this 1979 collection, Bly revisits the western Minnesota terrain and plainspoken style of his first collection, Silence in the Snowy Fields. While in many ways a sequel to Snowy Fields, the poems here reflect a deepened awareness of Sufism and Jung that relates them spiritually and psychologically to Camphor and Gopherwood and Black Coat.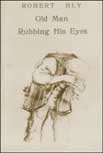 Old Man Rubbing His Eyes
All of the poems in this little book (originally published by Unicorn Press but then taken over by Ally Press) later turned up in the larger collection, This Tree Will Be Here for a Thousand Years. But that's no reason to pass this edition by. Embellished by the appropriately earthy yet somewhat spectral drawings of Franz Allbert Richter, this is one of Bly's most visually attractive editions.
This Body Is Made of Camphor and Gopherwood
These 1977 prose poems delight in the wild "leaps" and associative connections discovered by the meditative mind in solitude. A showcase for Bly's imaginative reach at its most muscular, this book features one of Bly's most ecstatic affirmations of physical love, "We Love This Body," as well as the famous poem, "Finding the Father." Beautifully enhanced by Gendron Jensen's pencil drawings. [more info: Amazon Books Online]
Originally published in 1973 by a small press in Massachusetts, this volume belongs stylistically with the poems of Sleepers Joining Hands which appeared the same year. What gives this collection its unique flavor are the woodcuts of Wang Hui-Ming, which wonderfully complement the Chinese-influenced mood of the poems.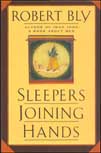 Sleepers Joining Hands
Bly's third volume is organized around an amazing essay that has defined his later work with gender issues, "I Came Out of the Mother Naked." Also includes his ferocious antiwar poem, "The Teeth Mother Naked at Last," and the ambitious title poem, a symbolic autobiography cast in visionary, Jungian images. One of Bly's most intellectually challenging volumes.
When Bly won the National Book Award for this 1967 collection, he publicly turned the prize money over to the Resistance. In these poems, he applies his psychological vision to American politics and history to strikingly original effect. Some of his most concise and penetrating poems on the Vietnam War are here.
Bly's first collection, published in 1962, disarmed readers and critics with its clear-sighted intelligence and apparent simplicity. Unlike much of the academically based American poetry of its time, Snowy Fields aimed at a kind of Oriental balance in which human beings participate in but do not dominate nature. Many still find this one of Bly's most healing books.