News and Links on the Web
Sunday, November 21, Robert Bly 1926-2021

Robert Bly has passed away. Article about his life in the Star Tribune:
Best-selling Minnesota author, poet Robert Bly dies at 94
Bly, the National Book Award-winning poet who started out writing bucolic poems about rural Minnesota and went on to shake up the complacent world of 1950's poetry has died just a month before his 95th birthday.
---
ROBERT'S PASSING
As I write this on Monday, November 22nd, a grief lies heavy on our community as word makes its way around that our beloved teacher and friend Robert Bly has passed from this life. There's no gauging the depth of gratitude we owe to Robert for the great gifts with which he was so generous during his long career as poet, provocateur and mentor. Properly honoring him will be a task for each of us to take up in our own way for the foreseeable future. All I can do here and now is to give a few impressions of Robert leading up to his moment of departure.

I'm comforted to think that Robert appeared to enjoy his life, circumscribed as it had become, until very close to the end. As of two or three months ago, he still asked for his morning coffee, took pleasure in visitors coming to sing or play music for him, and radiated some primal relish in being alive, that spark still lit in his striking blue eyes.

In all of this, Robert's wife Ruth was a heroic caregiver, exemplar of the kind of faithfulness we would all wish for ourselves. When I spoke with her a few hours after his passing, I felt what a victory it was simply for him to have died at home and not in a "facility." Ruth was a long-distance runner, not a sprinter, and her love blessed even Robert's worst days.

I last visited with Robert ten days before his death. I sat beside the hospital bed set up for him in the Blys' dining room and mostly tried to be with him quietly. He couldn't say much by then, but even so was subtly responsive. He moved almost imperceptibly between sleep and waking. I asked him if he was having many dreams, and he answered clearly, "Not so much." I can only imagine that his consciousness at that point lay somewhere beyond what we dichotomize as waking/dreaming.

I didn't want to say good-bye to him who I loved so much, so I chose not to, though I knew very well that death was present around him. And now it has come to pass - not a shock, and yet - a shock. There will be much to remember, much to say, much to celebrate about Robert in the time to come. Friends, let's all join hearts in doing the work, and honor our love for Robert by loving others.
--by Thomas R. Smith



---
Robert Bly documentary streaming on Twin Cities PBS.
Robert Bly: A Thousand Years of Joy, Haydn Reiss's marvelous film, had its television premiere on Twin Cities TPT 2 and now it can be streamed online via PBS. This is the 58 min version. It was broadcast in at least 60 cities around the country.
Learn More about this documentary at:
Robert Bly: A Thousand Years of Joy.
(a few DVD's are available to purchase)
---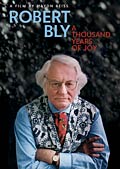 MSPIFF - Festival screening of Robert Bly: A Thousand Years of Joy - April 14th and 17th, 2016 - Review By Pamela Espeland on MINNPOST
In 2011, when poet Robert Bly was turning 85, California-based filmmaker Haydn Reiss decided to make him a gift.
"I said to myself, 'I have a lot of footage from over the years. I've had him in three other documentaries. Maybe I'll put together a little 10-minute piece for his birthday and send it on to the family and they can look at it.' " This week we can all see how that turned out, when Reiss' 81-minute documentary film "Robert Bly: A Thousand Years of Joy" screens at the Minneapolis St. Paul International Film Festival. And it only took four years, 25 interviews in five states and two countries, and a lot of what documentary filmmakers do: research, reading, raising money. With "Robert Bly: A Thousand Years of Joy," Reiss has created a legacy film - the only one so far - about a great Minnesota poet whose passion, politics, ecstatic spiritualism, earthiness and image-filled yet plainspoken language have influenced countless writers, including Louise Erdrich and Tracy K. Smith. He has also created a beautiful film, a visual poem to and about Bly, dusted with snow, filled with poetry, stories and music.
Read more at MINNPOST... >
Robert Bly: A Thousand Years of Joy
Director: Haydn Reiss
Thu, Apr 14 7:05 PM
Sun, Apr 17 6:15 PM
See event listing at the MSPIFF website for tickets>
---
Film about Robert Bly's life and work available now on DVD in 2015 - Order Online
"Robert Bly: A Thousand Years of Joy"
The film DVD's are now ready. Check out the trailer and order the DVD at
RobertBlyFilm.com
and see for yourself this amazing film by award-winning director Haydn Reiss.
From the director
: Robert Elwood Bly is one of America's most celebrated poets, easily the most controversial, who has for over a half century crisscrossed the cultural landscape through poetry, translation, activism and social commentary. Best known as the author of the bestseller, Iron John, which launched a million men drumming in the woods, Bly has been celebrated, vilified, but above all persisted in championing the power and importance of poetry in today's America.
more... >
Garrison Keillor joined Robert Bly and friends at an early director's screening in Minneapolis. To view photo album from the screening please visit:
Steve Peterson Photography website
---
Fiery Genius: The Poetry of Robert Bly - October 10th, 2015
Class at the Loft on Saturday, October 10, 9 a.m. - 3 p.m.
Robert Bly is one of the most influential living figures in world literature. Besides his many ground-breaking volumes of poetry, his contributions include incisive, provocative criticism and epochal translations of foreign poets, not least the Nobel Prize-winning Swedish poet Tomas Tranströmer, as well as Spanish and Mideastern poets. This workshop traces Bly's dynamic career from his beginnings on a farm in western Minnesota through his days of early fame as poet and editor of the revolutionary poetry magazine The Fifties/The Sixties to international renown as proponent of "Deep Image" poetry. While illuminating the many facets and intellectual currents of Bly's fertile opus, we'll stay focused on his work as a poet, watching his development from book to book in a constant process of self-reinvention. Among the many stages of Bly's work we'll pay special attention to his early explosive free verse period, his venture into the controversial prose poem, the sound experiments of his invented form the "ramage," and his later work with an American adaptation of the Mideastern ghazal form. Along the way we'll learn from writing exercises adapted from Bly's own techniques for breaking out of expected patterns into provocative new territory, bringing us closer to the fiery genius of Bly's stellar achievement.
For more information or to register: call now 612/215-2575 or visit online:
Reading for Writers: Fiery Genius: The Poetry of Robert Bly
Taught by poet Thomas R. Smith


---
Robert Bly film premiering at this year's 2015 Mill Valley Film Festival, Oct 8 - 18th, in the San Francisco Bay area.
Film screenings on Oct 10th, 13th, and 14th. For more information and
tickets
see the
Mill Valley Film Festival
website. Co-presented by Buddhist Film Foundation. Festival
Facebook
page.
Description:
Poet Robert Bly stands out even among the celebrated, revolutionary generation of American artists who burst forth in the 1950s, and this loving documentary by Haydn Reiss (Rumi: Poet of the Heart, MVFF 1998) charts his singular path from second son to taciturn father on a wintry Minnesota farm to radical anti-Vietnam War activist to wild man of the 1990s men's movement. The bespectacled, white-haired Bly is every inch the politically and spiritually engaged mystic, seeking each moment's fervid heart as well as the eternal, intuitive bedrock beneath our cultivated ideologies and "personas." He was one of the first to translate Pablo Neruda, Rumi, and the ecstatic Sufi poets, and his work with Joseph Campbell - exploring the metaphorical, psychological terrain of myth and ritual - led to the unexpected pop culture phenomenon of Iron John. A confounding whirling dervish, Bly's life embodies the quest for personal honesty and shared truth.
---
Readings by Writers
Robert Bly, Louis Jenkins, Freya Manfred, Thomas R. Smith.
April 15th, 2014, 7:30 pm
Historic University Club
420 Summit Avenue
Saint Paul, Minnesota


---
2013 Weekly seminars in Minneapolis on Robert Bly
Mondays, Mar 25 - Apr 29, 2013
OLLI course #16030: ROBERT BLY IN THIS WORLD, led by Jim Lenfestey, with guests Thomas R. Smith and Mark Gustafson,
Plymouth Congregational Church, Minneapolis on Mondays.
Registration starts March 5, go to
http://www.cce.umn.edu/Osher-Lifelong-Learning-Institute/
or Google "OLLI Minnesota".
Plymouth Congregational Church
1900 Nicollet Ave. So.
Minneapolis, Minnesota


---
Robert Bly named as Poetry Society of America's Frost Medalist
Announcing the 2013 Frost Medalist, Robert Bly:
The Poetry Society of America is honored to announce that Robert Bly is the 2013 recipient of the organization's highest award, the Frost Medal, presented annually for "distinguished lifetime achievement in poetry." Previous winners of this award include Wallace Stevens, Marianne Moore, Gwendolyn Brooks, Allen Ginsberg, Lucille Clifton, Charles Simic, and Marilyn Nelson who was the 2012 recipient.

The 2013 Annual Awards ceremony, which will celebrate all the winners of the 14 annual PSA awards, will take place on Friday, April 5th, in New York City at the National Arts Club. Announced on 02/12/13 by the Poetry Society of America


---
Robert Bly's New Selected Poems Due From Norton in September
Stealing Sugar from the Castle: the Selected Poems of Robert Bly:
In 2013 W. W. Norton is scheduled to publish Stealing Sugar from the Castle: the Selected Poems of Robert Bly. Selected from more than ten volumes of poetry from 1950 through 2005, and including Bly's National Book Award-winning volume The Light Around the Body, Stealing Sugar from the Castle showcases the brilliant career of this American master, as he moves from the rich, earthy simplicity of Silence in the Snowy Fields (1962), through the wild, yet intricately formal ghazals of My Sentence Was a Thousand Years of Joy (2005). Watch this space for updates on events celebrating the publication of Stealing Sugar from the Castle.


---
American Swedish Institute — April 2, 2013
Airmail: The Letters of Robert Bly and Tomas Tranströmer:
On Tuesday, April 2, Robert Bly and friends will celebrate the publication of Airmail: The Letters of Robert Bly and Tomas Tranströmer at the American Swedish Institute in Minneapolis, 7 p.m. Editor Thomas R. Smith will introduce Bly and Swedish scholar Roland Thorstensson, who will read an exchange of letters between Bly and Tranströmer. The American Swedish Institute is located at 2600 Park Ave., Minneapolis, MN 55407.
Review of this event for the Star Tribune, 4/3/2013
Robert Bly reads to a packed house - Posted by: Laurie Hertzel
---
Minneapolis: StarTribune.com — October 13, 2011
Winning work, seeded under the North Star:
Nobel Prize for Literature: As much an award for translator Robert Bly
—by Mark Gustafson

---
"What Stories Do We Need" — March 21, 2011
BetterListen.com - — posted this month a transcribed excerpt of one of Robert's classic thought provoking and timeless recordings. It reminds us that we all carry a personal mythology, but the stories we tell ourselves may not be entirely true... Recorded live at The New York Open Center
St. Paul: Minnesota's First Poet Laureate — February 27, 2008
Robert Bly recognized as Minnesota's first Poet Laureate: MPR
—by Steve Karnowski, Associated Press

---
Chicago: ConsciousChoice.com October, 2005
Poetic Vision: Robert Bly talks about politics, protests and piloting life's river of ruin. By Marla Donato
Minneapolis: RakeMag.com - January, 2004
< Robert Bly: The Dude Abides
The Rake takes up a seat at the feet of the master.
Editorial: — October 17, 2004
THE EMPEROR HAS NO CLOTHES..


---
Press Release: — 2004
The Insanity of Empire: A Book of Poems Against the Iraq War.



In this 2004 release, Robert Bly collects some of his earlier poems and adds new poems that address the Iraq War and some of the ominous implications of that serious step taken by the Republican administration.
This collection also includes five new poems in the ghazal form, a form that contributed to the power of his book The Night Abraham Called to the Stars, published by HarperCollins in 2001. These poems include the now-famous poem "Call and Answer," which was one of the first poems written against the war, published in The Nation in August of 2002. Bly's new poems reach for that larger voice to which he has always been committed.