Prose Essays and Interviews

Airmail: The Letters of Robert Bly and Tomas Tranströmer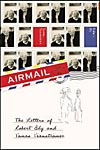 The original version of Airmail was a bestseller in Sweden in 2001, after which Robert Bly commissioned Thomas R. Smith to edit an American edition. Unable to find a publisher at the time, Airmail languished in Smith's files until in October 2011 Tomas Tranströmer won the Nobel Prize for Literature. English-language readers will discover that these brilliant letters were well worth the wait. This greatly expanded edition adds nearly 100 letters to the 200 letters in the Swedish edition, thoroughly chronicling the two poets' friendship from 1964 to 1990, when Tranströmer suffered a stroke that has left him unable to write. Airmail will be instructive to poets, translators and general readers alike, illuminating the literary and private lives of these two geniuses. Forthcoming from Graywolf Press in April, 2013.

Review: "In their own words: Bly and Transtromer" by Mark Gustafson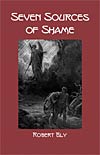 In April, 1989, Robert Bly gave a joint presentation with the therapist Gershen Kaufman at the Alfred Adler Institute in Minneapolis. Kaufman's book, Shame: The Power of Caring, had recently made a deep impression on Bly, as evidenced by this important, emotionally revealing talk. Bly discusses seven common sources of shame, including deliberate shaming by others, inherited shame, and shame over bodily imperfections. As he often does, Bly intersperses this talk with poems, illuminating them with memorable personal anecdotes. Perhaps most provocatively, he relates how addictive behaviors can often mask an underlying addiction to shame, in which one undergoes the humiliations of addiction in order to receive one's quota of shame. Originally available only in an expensive professional volume, this helpful talk has now been reprinted as an affordable pamphlet by Heaven and Earth Publishing.


The Maiden King (with Marion Woodman)

This book is the result of years of collaboration with the Canadian Jungian analyst Marion Woodman on material around the Russian Fairy Tale "The Maiden Czar." Bly follows closely the method of explication he used in "Iron John," resulting in some of his best prose of the 90s. Since "The Maiden Czar" is the story of a man's initiation into the mysteries of the feminine, it's fascinating to counterpoint a man's point of view with a woman's. Bly is more mythological in his approach, and Woodman more psychological. Together they open contemporary doors into an ancient Russian story containing timeless wisdom.
If "Iron John" is Jungian, a Freudian spirit guides Bly's meditation on "the fatherless society." Following the lead of pioneering German psychologist Alexander Mitscherlich, Bly examines the psychological, social, political and spiritual consequences of the contemporary withdrawal of the father from the lives of his children. Bly marshals myths, fairy tales, pop culture and brain physiology in formulating his critique of a culture in which we relate to each other as quarreling, envious siblings. On the whole, subsequent events have proven Bly's book prophetic.



This small book is large with Bly's affection for his friend and colleague, the late James Wright. Revised from a talk given at the annual James Wright Poetry Festival in Wright's home town of Martins Ferry, Ohio in 1991, this essay is by turns hilarious and poignant. Bly quotes some of Wright's best-loved poems and illuminates them with background anecdotes, some of which he's never told before. Until a full-fledged biography comes along, this is probably the best living portrait we have of the heartbreaking and contradictory Wright.

While the men's movement was already well along at the time, Bly's controversial 1990 bestseller almost single-handedly brought that movement into the national spotlight. Often lost in discussion of the politics of this book–real or supposed–is the fact that it may represent Bly's high-water mark as a prose stylist. Bly sustains a complex, multi-faceted discussion of the Grimm Brothers' fairy tale "Iron John" for over 200 pages, examining the story and its implications from mythological, psychological and everyday perspectives. A tour de force.
American Poetry: Wildness and Domesticity
Bly's memorable and contentious essays about American poets, appearing under the byline of "Crunk" in his ground-breaking journal The Fifties and The Sixties, form the vital nucleus of this classic survey. Bly provides some of the best commentary ever written on his contemporaries James Wright, Louis Simpson, David Ignatow, and others. A series of later essays on poetics provide probably the most concentrated formulation Bly has made of his own approach to writing poetry. An essential volume.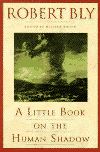 A Little Book on the Human Shadow (with William Booth)
Culled from taped interviews and lectures of the 1970s by Bly archivist William Booth, these meditations focus on what Bly calls "the long bag we drag behind us," otherwise known to Jungian psychology as "the shadow." Bly's vivid and colorful disquisition on the shadow is so lucid that many consider this "little" book to be the ideal introduction to its subject. Includes Bly's stunning essay "Wallace Stevens and Dr. Jeckyll."
Bly's first collection of interviews (there are rumors of a second in preparation), Talking All Morning covers the 70s and the late 60s. This time of creative and intellectual ferment for Bly is reflected in these interviews' excitement over subjects ranging from recent discoveries in brain physiology to political poetry to the ancient "Great Mother" spirituality. This lively book bristles with insights into the restless intelligence that has informed Bly's mature production of the 80s and 90s.
This fascinating book is part essay and part anthology of Bly's translations of poets as diverse as Goethe and Neruda. Bly walks us through the "eight stages" of translating Rilke's 21st "Sonnet to Orpheus," revealing the work of the translator in all of its intricate decision-making. This essay is one of Bly's most sustained literary writings, and will deepen the understanding both of translators and of those who have wondered what the process of translation entails.